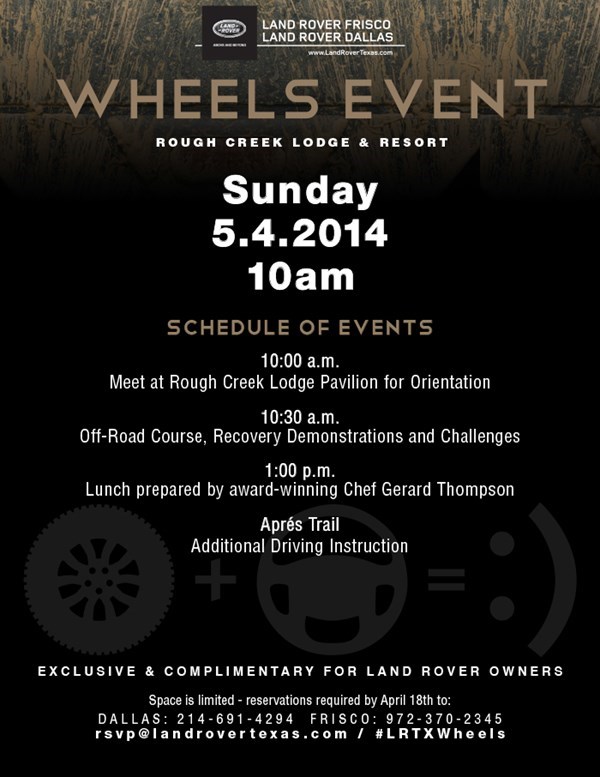 Select Certified Pre-Owned Sales Event Now through April 30th Financing on Certified Pre-Owned Models starting at 0.9% APR* for 24 to 60 months.
See centre for complete details.

April 21, 2014 – April 27, 2014

This weeklong experience begins at America's largest home, the exquisite Biltmore Estate in Asheville, North Carolina. Explore some of Biltmore's 8,000 acres before dining in the estate's private wine cellar.
More Information...
SAVE THE DATE: SATURDAY APRIL 26, 2014 6:30PM

Dust off your cowboy boots, put on your best western duds and join us!
It's our 20th annual fundraising event so make plans to attend the Frisco Family Services Gala 2014 - ONE presented by Rent-A-Center on
Saturday April 26
at the Dr Pepper Arena, Frisco.
More Information...
Enjoy the Range Rover Evoque shortcuts!

A full collection of clothing and accessories "dipped in Land Rover" are available at the centre.

In a true testament to automotive engineering and excellence, Land Rover has been awarded top honors during MotorWeek's 2014 Driver's Choice Awards, with the 2014 Range Rover Sport named the "Best Dream Machine." With its unparalleled power and...
Driving Directions
Sales Dept. Hours
Mon-Fri: 8:30 am – 7:00 pm
Sat: 8:30 am – 6:00 pm
Sun: Closed
Mon-Fri: 8:30 am – 7:00 pm
Service Dept. Hours
Mon-Fri: 7:00 am – 7:00 pm
Sat: 8:00 am – 3:30 pm
Sun: Closed